HStype DUPLEX OIL STRAINER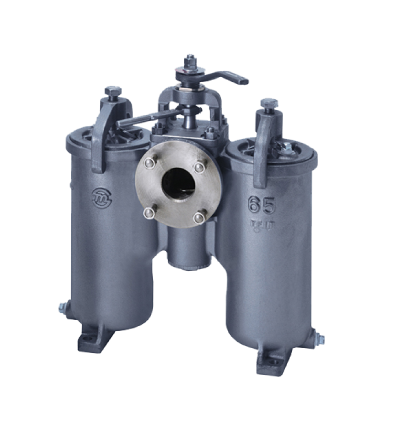 SPEC. (Equivalent of JIS F7208)
| | |
| --- | --- |
| Nominal dia. | 50A~250A |
| Fluid | Various oil (or water) |
| Working press. | 0.4MPa |
| Max.fluid temp. | 150℃ |
| Connection | JIS 5K、10K /  ANSI 150Lb etc. |
| Body Material | FC200 etc. |
| Body Material | FILTER CYLINDER:SS400 /  WIRE GAUZE:SUS304 etc. |
Product Description
A product based on JIS F 7208 with diameters up to 250A.
The large element surface area allows for it to be used for highly viscous oils and high precision filtering.
For the HS type, the friction torque is small when the cock plug is lifted during cock plug switching, and in addition at 150A and above bearings are inserted above and below the cock plug lifting screw, aimed at reducing lifting force.       
Element filtering precision is available from approximately 16 mesh to a nominal 10 micron wire mesh and cartridge type elements are also available.
Normally used for oil straining, but it can also have the inner surface lined with rubber allowing it to be used for water, chemicals and other substances.
◆Cock plug switching
Rotate the top handle (cock lift handle) counter clockwise and lift the cock.
Rotate the bottom handle (cock handle) 90 degrees.
Rotate the top handle (cock lift handle) clockwise and depress the cock.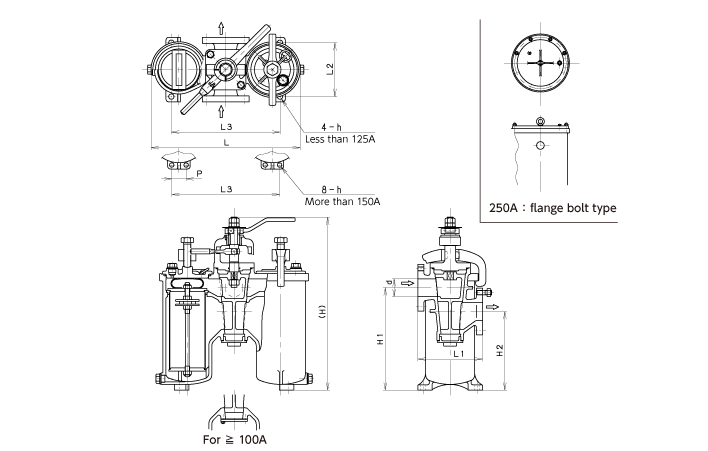 TYPE
BODY
LEG
d
(H)
H1
H2
L
L1
L2
P
L3
h
HS 50
50
(490)
285
219
415
180
150
–
302
15
HS 65
65
(600)
358
273
514
215
185
–
375
19
HS 80
80
(690)
414
312
600
245
215
–
440
19
HS 100
100
(825)
497
371
718
285
255
–
524
23
HS 125
125
(975)
588
431
852
330
305
–
620
23
HS 150
150
(1200)
712
511
1046
410
365
80
760
23
HS 200
200
(1440)
890
645
1250
490
430
100
920
27
HS 250
250
(1625)
1005
615
1538
600
540
140
1148
33